Beginners + Improvers Ages 5-10
Our project based programs teach young seamsters to properly and safely hand and machine sew while designing and making items they enjoy! Mini Makers (Pre-K), Super Seamsters (Grades K-2), and Daring Designers (Grades 3-5) get creative with FUN projects ranging from stuffies, to bags, to quilts, simple garments and more. We offer many ways to join the fun. Check out our weekly classes, school vacation camps, and seasonal workshops.
Beginner + Intermediate Ages 10-15
Learn to sew and make real fashion! Discover creative ways to express your personal style with classes in garment sewing, fashion design, quilting, and accessories.
Each 8 week project specific course is tweens & teens learn how to use patterns, fit garments, and gain proficiency in the sewing and serger machines. use the professional industry techniques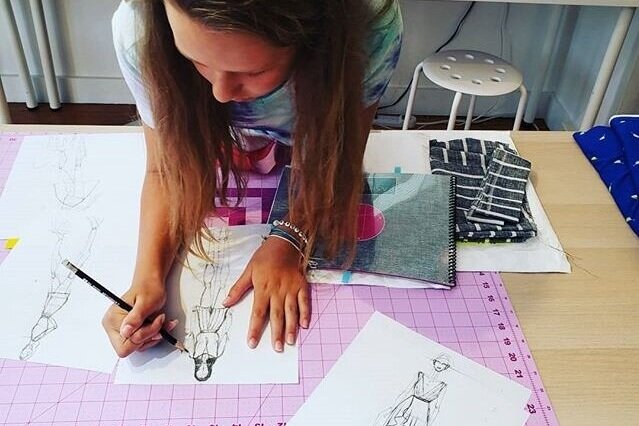 You have the skills to bring your ideas to life…let's get creative! As in independent designer you choose the pattern, the materials, and your schedule. We provide the work space, the equipment, and a skilled instructor for guidance.
Fashion club is our new monthly membership program for intermediate and advanced seamsters age 11+ (or with instructor approval) who are interested in fashion and garment sewing, able to work independently using studio equipment, and eager to take their sewing to the next level!
Start anytime! Scheduled and drop in times available. Bring your own fabric and materials or purchase them at a discount in our supply shop.
Intermediate + Advanced Ages 12-17